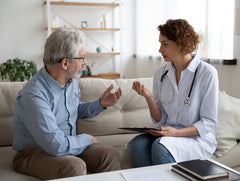 Hypertension is a medical term that refers to high blood pressure.1,2 It is defined as having a systolic blood pressure of >130 mm Hg or a diastolic blood pressure of >80 mm Hg or requiring antihypertensive (ie, blood pressure-lowering) medication(s).
Hypertension is categorized into stage 1 and stage 2 hypertension.
Stage 1 Hypertension: systolic blood pressure of 130-139 mm Hg or diastolic blood pressure of 80-89 mm Hg
Stage 2 Hypertension: systolic blood pressure of >140 mm Hg or diastolic blood pressure of >90 mm Hg
How Common Is Hypertension?
Hypertension is a worldwide health issue.3 An estimated 1.39 billion adults globally had hypertension in 2010. In 2021, it was estimated that nearly half of all U.S. adults had hypertension (48.1%, 119.9 million).2 Even though hypertension is known to be one of the leading causes of cardiovascular disease (CVD) and death, only 1 in 4 adults with hypertension are estimated to have their blood pressures under control.2,3
What Are the Risk Factors for Hypertension?
Although the body is normally able to keep blood pressure within a certain range, various factors can cause blood pressure to be persistently elevated. Both nonmodifiable (ie, factors that cannot be controlled or changed) and modifiable (ie, factors that can be controlled or changed) factors contribute to the development of hypertension.3 Genetic predispositions, family history, and age are common nonmodifiable risk factors for hypertension. In addition, obesity, lack of physical activity, and eating an unhealthy diet consisting of high sodium intake, low potassium intake, high saturated and trans-fat intake, and high alcohol consumption are known to be associated with higher blood pressure and greater risk of CVD.2,3
What Are the Symptoms of Hypertension?
Most people do not experience any symptoms with hypertension.2,4 However, very high blood pressure may cause symptoms. Symptoms may include:
Headaches
Mild visual changes
Nosebleeds
Difficulty breathing with physical activity
Nausea and vomiting
Chest pain
Pain in legs or arms with physical activity

How Is Hypertension Managed?
The American Heart Association provides recommendations on both lifestyle changes and medications that can help lower blood pressure in people with hypertension.5 For individuals who are overweight or obese, weight loss is recommended. In addition, a great emphasis should be placed on increasing physical activity and on eating a heart-healthy diet consisting of low sodium intake, potassium supplementation, and reduced alcohol intake. Depending on the severity of hypertension and the risk or history of CVD an individual has, anti-hypertensive medications may be recommended. Thiazide diuretics, angiotensin-converting enzyme inhibitors, angiotensin receptor blockers, and calcium channel blockers are common anti-hypertensive medications used.
References:
1. Oparil S, Acelajado MC, Bakris GL, et al. Hypertension. Nat Rev Dis Primers. 2018;4:18014. doi:10.1038/nrdp.2018.14
2. Facts About Hypertension | cdc.gov. Centers for Disease Control and Prevention. Published July 6, 2023. Accessed July 21, 2023. https://www.cdc.gov/bloodpressure/facts.htm
3. Mills KT, Stefanescu A, He J. The Global Epidemiology of Hypertension. Nat Rev Nephrol. 2020;16(4):223-237. doi:10.1038/s41581-019-0244-2
4. Ashley EA, Niebauer J. Hypertension. In: Cardiology Explained. Remedica; 2004. Accessed July 24, 2023. https://www.ncbi.nlm.nih.gov/books/NBK2217/
5. Whelton PK, Carey RM, Aronow WS, et al. 2017 ACC/AHA/AAPA/ABC/ACPM/AGS/APhA/ASH/ASPC/NMA/PCNA Guideline for the Prevention, Detection, Evaluation, and Management of High Blood Pressure in Adults: A Report of the American College of Cardiology/American Heart Association Task Force on Clinical Practice Guidelines. Hypertension. 2018;71(6):e13-e115. doi:10.1161/HYP.0000000000000065
(Disclaimer)
The content of this article is intended to provide a general information and knowledge on the subject matter. The views expressed in newsletters, articles, and blogs in the i-SENS USA website are not necessarily those of i-SENS Incorporated, i-SENS USA Incorporated or our publishers. Medical or nutritional information on i-SENS USA website is not intended to replace professional medical advice – you should always consult a specialist with any questions about your specific circumstances.