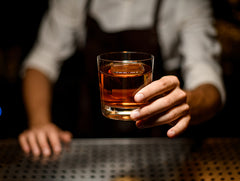 Current Recommendations on Alcohol Consumption
The 2020-2025 Dietary Guidelines for Americans (DGA) recommends adults of legal drinking age to limit their alcohol consumption to <1 drink/day for women and <2 drinks/day for men.1 The DGA also does not recommend people who don't normally drink to start drinking for any reason, emphasizing that less alcohol is better for health. In addition, calories from alcohol should be considered when thinking about one's daily nutritional and caloric needs. 
A "drink" is 14 g of pure alcohol, or can be understood by the following units for different alcohol types: 
| | | |
| --- | --- | --- |
| Alcohol Type | Definition of a "Drink" | Calories / Drink |
| Regular Beer | 12 fluid ounces | 150 calories |
| Wine | 5 fluid ounces | 120 calories |
| Distilled Spirits | 1.5 fluid ounces | 100 calories |
| Rum and Cola | 7 fluid ounces | 190 calories |

Alcohol & Heart Health 
The topic of alcohol and heart health has long been a source of controversy.2 Although recent observational studies have shown that low to moderate amounts of alcohol can improve heart health, major health organizations have continued their stance on limiting alcohol intake as much as possible.3,4
For instance, a 2022 large systematic review investigating the relationship between alcohol intake and cardiovascular (ie, heart and blood vessel related) health found that moderate wine consumption may be associated with lower cardiovascular deaths compared to no consumption.5 However, the study noted that the relationship is J-shaped, meaning that heavy amounts of alcohol can be harmful for heart health. In addition, there may be other factors that influence this finding, such as a more favorable lifestyle or socioeconomic status that may be more related to people who moderately consume wine. 
The American Heart Association recommends people to limit their alcohol intake and for those who do not drink to not start drinking because of perceived benefits of alcohol, as alcohol consumption is related to various negative outcomes (eg, injuries, violence, cancer, etc.) and uncertainties remain regarding its net health effect.3 
Alcohol & Weight
Current research on the relationship between alcohol and weight is also inconclusive. A 2011 systematic review found contradictory evidence but saw general patterns that suggest that heavy alcohol drinking was associated with weight gain.6 However, the study noted that light-to-moderate consumption of wine, as opposed to spirits, may protect against weight gain. Other research have consistently shown that heavy drinking and binge drinking are related to weight gain.7 Alcohol contributes to calories during meals but does not seem to correspondingly reduce food intake, and alcohol may also stimulate appetite and influence various hormones related to satiety, potentially explaining how alcohol may contribute to weight gain. Although light-to-moderate wine consumption seems to be protective against weight gain, it has been suggested that wine-drinkers may have healthier dietary habits and engage in more physical activities than other types of alcohol drinkers.
Alcohol & Diabetes 
Studies on alcohol and glycemic health have more consistently shown that light alcohol intake may lower insulin resistance and decrease risk of diabetes, whereas heavy drinking may increase the risk.8,9 Reasons behind these findings have also been debated and are still being elucidated. Some studies suggest that improved insulin sensitivity, increased high-density lipoprotein cholesterol levels, and the anti-inflammatory effects from low to moderate alcohol intake may explain the reduction in diabetes risk.8,10 However, other studies debate that such findings may be an artifact of poor sample comparison, citing that former drinkers and female never-drinkers included in the general category of "nondrinkers" often have poorer health than moderate drinkers.9 
Besides alcohol's effect on insulin resistance and risk of developing diabetes, alcohol may have significant health effects on people with diabetes. It is well-known that alcohol intake among diabetics increases the risk of hypoglycemia.11 Although exact mechanisms are still being studied, it may be due to alcohol's inhibition of glucose synthesis and its effect on increasing blood supply to the pancreas that increases insulin secretion. Caution should especially be taken for those taking diabetes medication.12 For instance, drinking alcohol while taking sulfonylureas may significantly increase the risk of developing hypoglycemia. Excessively drinking alcohol while on metformin can also increase the risk of developing lactic acidosis, the buildup of lactic acids in the blood.
References:
1. U.S. Department of Agriculture and U.S. Department of Health and Human Services. Dietary Guidelines for Americans, 2020-2025. 9th Edition. December 2020. Available at DietaryGuidelines.gov.
2. Putting the 2021 AHA Dietary Guidelines into Practice. American College of Cardiology. Accessed June 14, 2023. https://www.acc.org/Latest-in-Cardiology/Articles/2022/01/14/13/13/http%3a%2f%2fwww.acc.org%2fLatest-in-Cardiology%2fArticles%2f2022%2f01%2f14%2f13%2f13%2fPutting-the-2021-AHA-Dietary-Guidelines-into-Practice
3. Lichtenstein AH, Appel LJ, Vadiveloo M, et al. 2021 Dietary Guidance to Improve Cardiovascular Health: A Scientific Statement From the American Heart Association. Circulation. 2021;144(23):e472-e487. doi:10.1161/CIR.0000000000001031
4. The Impact of Alcohol Consumption on Cardiovascular Health. World Heart Federation. Accessed June 14, 2023. https://world-heart-federation.org/news/no-amount-of-alcohol-is-good-for-the-heart-says-world-heart-federation/
5. Krittanawong C, Isath A, Rosenson RS, et al. Alcohol Consumption and Cardiovascular Health. Am J Med. 2022;135(10):1213-1230.e3. doi:10.1016/j.amjmed.2022.04.021
6. Sayon-Orea C, Martinez-Gonzalez MA, Bes-Rastrollo M. Alcohol Consumption and Body Weight: A Systematic Review. Nutr Rev. 2011;69(8):419-431. doi:10.1111/j.1753-4887.2011.00403.x
7. Traversy G, Chaput JP. Alcohol Consumption and Obesity: An Update. Curr Obes Rep. 2015;4(1):122-130. doi:10.1007/s13679-014-0129-4
8. Polsky S, Akturk HK. Alcohol Consumption, Diabetes Risk, and Cardiovascular Disease Within Diabetes. Curr Diab Rep. 2017;17(12):136. doi:10.1007/s11892-017-0950-8
9. Knott C, Bell S, Britton A. Alcohol Consumption and the Risk of Type 2 Diabetes: A Systematic Review and Dose-Response Meta-analysis of More Than 1.9 Million Individuals From 38 Observational Studies. Diabetes Care. 2015;38(9):1804-1812. doi:10.2337/dc15-0710
10. Kawamoto R, Kohara K, Tabara Y, et al. Alcohol Consumption Is Associated with Decreased Insulin Resistance Independent of Body Mass Index in Japanese Community-Dwelling Men. Tohoku J Exp Med. 2009;218(4):331-337. doi:10.1620/tjem.218.331
11. Huang Z, Sjöholm Å. Ethanol Acutely Stimulates Islet Blood Flow, Amplifies Insulin Secretion, and Induces Hypoglycemia via Nitric Oxide and Vagally Mediated Mechanisms. Endocrinology. 2008;149(1):232-236. doi:10.1210/en.2007-0632
12. Engler PA, Ramsey SE, Smith RJ. Alcohol Use of Diabetes Patients: The Need for Assessment and Intervention. Acta Diabetol. 2013;50(2):93-99. doi:10.1007/s00592-010-0200-x
(Disclaimer)
The content of this article is intended to provide a general information and knowledge on the subject matter. The views expressed in newsletters, articles, and blogs in the i-SENS USA website are not necessarily those of i-SENS Incorporated, i-SENS USA Incorporated or our publishers. Medical or nutritional information on i-SENS USA website is not intended to replace professional medical advice – you should always consult a specialist with any questions about your specific circumstances.