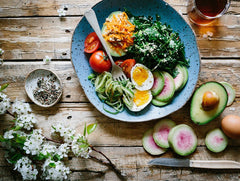 Ketogenic diet is a low-carbohydrate diet that consists of 55-60% fat, 30-35% protein, and 5-10% carbohydrates (Masood, 2020).
Online grocery shopping has become very accessible to many over the past few years. However, that does not mean that prepping meals has become easier. With many people struggling to find balance in their life, sometimes even taking the time to prep meals can be cumbersome. This is why many turn to meal delivery serves that provide customers with pre-made meals that can be heated up using a microwave or oven. Though delivery services can be pricey, there are many affordable options for those on ketogenic diet.
Fresh N' Lean
Fresh N' Lean provides meal plans for variety of diet plans, including ketogenic diet. Their meals are dietitian-approved and comply with FDA. Their meal plan starts from $9.33 per meal.
Diet-to-Go
Diet-to-go provides four different meal delivery plans, which includes Keto-Carb30 eating plan that restricts carbohydrates and replaces them with healthier fats. Cost per meal for the Keto-Carb30 plan is about $13.80 per meal.
Green Chef
Green Chef provides meal plans that takes around 30-minutes to prepare. They also offer ketogenic diet meal plan and uses organic ingredients from CCOF. Their keto meal plan costs around $12.99 per serving.
There are many other delivery options that provide healthy meal plans. When following a strict ketogenic diet, please make sure to check your meal ingredients and keep a track of all your food intake. You can also use a blood ketone monitor to accurately check your state of ketosis. With KetoSens Blood Ketone Monitoring System, you can measure your ketone levels in just 8 seconds with a tiny blood sample of 0.5 micro-liter.
References:
-Masood, W. (2020, December 14). Ketogenic diet. Retrieved March 05, 2021, from https://www.ncbi.nlm.nih.gov/books/NBK499830/
-What are some of the best keto meal delivery options? (n.d.). Retrieved March 05, 2021, from https://www.medicalnewstoday.com/articles/keto-meal-delivery#definition

(Disclaimer)
The content of this article is intended to provide a general information and knowledge on the subject matter. The views expressed in newsletters, articles, and blogs in the i-SENS USA website are not necessarily those of i-SENS Incorporated, i-SENS USA Incorporated or our publishers. Medical or nutritional information on i-SENS USA website is not intended to replace professional medical advice – you should always consult a specialist with any questions about your specific circumstances.