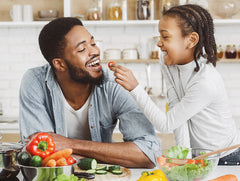 Comprehensive lifestyle management, including eating a healthy diet, is one of the most important ways to both prevent and manage type 2 diabetes mellitus and other chronic conditions that need blood sugar under control.1 Although the American Diabetes Association (ADA) does not recommend one specific diet, the ADA does recommend eating foods rich in nutrients in appropriate portion sizes that can help maintain appropriate weight loss and achieve glycemic, blood pressure, and lipid goals according to individual preferences. As choosing healthy diabetes-friendly snacks can be a challenge, here we provide a few ideas with recipes from the ADA Diabetes Food Hub.
Hard-Boiled Eggs or Egg Bites
Eggs are excellent sources of dietary protein.2 A simple hard-boiled egg is an easy, nutrient-filled snack. You can also easily bake healthy veggie-packed egg bites by mixing in various vegetables of your choice with beaten eggs – spinach and bell peppers are great choices. Add some grated parmesan cheese for added flavor and nutrients. Here are some great recipes from the Diabetes Food Hub by the ADA: Spinach and Parmesan Egg Bites, Mini Veggie Frittatas.3
Yogurt Parfaits
Fat-free plain yogurts are great sources of protein, minerals, and vitamins.2 You can add a variety of fruits of your preference to your yogurt to make a delicious parfait – fresh or frozen blueberries, strawberries, bananas are great choices. Add sliced almonds or low-sugar cereals for a more filling serving. The ADA Diabetes Food Hub offers some great recipes: Good Morning Power Parfait, Blueberry Lemon Yogurt Parfait, Fruit Salad with Honey Yogurt.3
Nuts
Nuts such as almonds, peanuts, cashews, hazelnuts, and walnuts are great sources of both protein and fat.2 You can choose to snack on nuts on their own, make your own healthy trail mix, or spice them up based on your preferences. The ADA Diabetes Food Hub has a Candied Mixed Nuts recipe using artificial sweeteners and a Power Snack Mix recipe.3
Energy Balls
Nut butters such as peanut butter or almond butter are great sources of protein and fat.2 Oats are also great sources of whole grains packed with nutrients. Try mixing a nut butter of your choice with old-fashioned or quick cooking rolled oats to make energy balls. Add sugar-free chocolate chips, unsweetened coconut flakes, or ground flax seeds for more flavor and nutrients. Here are both no-bake and baked snack bite recipes from the ADA Diabetes Food Hub: No-Bake Peanut Butter & Chocolate Bites, No Bake Protein Balls, Peanut Butter Banana Oat Bites.3
Fruit Smoothies
Fruits are great sources of fiber and various types of vitamins.2 Eating fresh fruits is a great way to snack, but you can also blend your favorite fruits with unsweetened milk, yogurt, and/or vegetables to make it a more filling snack. Here are some great smoothie recipes by the ADA Diabetes Food Hub: Summer Fruit Smoothie, Superfood Smoothie, Fruit and Almond Smoothie.3
Fresh Vegetables With Dips
Fresh vegetables are packed with fiber and essential vitamins.2 Pick your favorite vegetables to snack on! Raw carrots, cherry tomatoes, celery, bell peppers, cucumber, and broccoli are great options.4 You can also make delicious dips like hummus on the side to go along with your fresh vegetables. Try out the Veggie Dip Cups, Buffalo Chicken Dip, or the Spinach Artichoke Dip with a variety of raw vegetables of your choice.3
Cheese
Dairy products such as cheese are great sources of both calcium and various vitamins.2 Slices of low-fat cheese, string cheese, and cottage cheese are easy ways to snack on dairy products.4 You can pair them with slices of apples and whole wheat crackers or make cheese quesadilla with shredded cheese and corn or whole wheat tortilla.
References:
1. American Diabetes Association. Standards of Medical Care in Diabetes—2022 Abridged for Primary Care Providers. Clin Diabetes. 2022;40(1):10-38. doi:10.2337/cd22-as01
2. U.S. Department of Agriculture and U.S. Department of Health and Human Services. Dietary Guidelines for Americans, 2020-2025. 9th Edition. December 2020. Available at DietaryGuidelines.gov.
3. Diabetes Food Hub. Accessed June 24, 2023. https://www.diabetesfoodhub.org/
4. American Diabetes Association. What Can I Eat? Accessed June 24, 2023. http://main.diabetes.org/dorg/PDFs/awareness-programs/hhm/what_can_i_eat-smart_snacks-American_Diabetes_Association.pdf.
(Disclaimer)
The content of this article is intended to provide a general information and knowledge on the subject matter. The views expressed in newsletters, articles, and blogs in the i-SENS USA website are not necessarily those of i-SENS Incorporated, i-SENS USA Incorporated or our publishers. Medical or nutritional information on i-SENS USA website is not intended to replace professional medical advice – you should always consult a specialist with any questions about your specific circumstances.