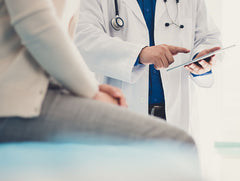 What Is Type 2 Diabetes? 
Type 2 diabetes mellitus (T2DM) is the most common type of diabetes, accounting for 90-95% of all cases.1 T2DM is characterized by insulin resistance and non-autoimmune loss of pancreatic b-cell insulin secretion, which results in persistent hyperglycemia.
Who Are at Risk of Developing Type 2 Diabetes?
Both nonmodifiable (eg, genetic predisposition, family history) and modifiable (eg, obesity, physical inactivity, unhealthy diet) risk factors contribute to the development of T2DM, with obesity recognized as the greatest risk factor.2,3 Individuals who meet the following criteria are considered to be at increased risk and should be screened regularly for T2DM.1 
Adults who are overweight or obese (body mass index (BMI) >25 kg/m2 or >23 kg/m2 in Asian Americans)
Having a first degree relative (ie, parents, siblings, or offspring) with diabetes
Adults from high-risk racial/ethnic backgrounds (ie, Asian American, African American, Pacific Islander, Latino, or Native American)
History of cardiovascular disease
High blood pressure (>140/90 mmHg)
Triglyceride level >250 mg/dL and/or high-density lipoprotein (HDL) cholesterol level <35 mg/dL
Adults with prediabetes
Women previously diagnosed with gestational diabetes
Women with polycystic ovary syndrome 
What Are the Symptoms of Type 2 Diabetes?
Individuals with T2DM may remain asymptomatic for many years as hyperglycemia slowly develops.1 Classic symptoms of diabetes may include the following:4–7
Frequent urination
Excessive thirst
Fatigue
Delayed wound healing
Frequent infections
Tingling, numbness, or pain in hands or feet
Blurred vision
How Is Type 2 Diabetes Diagnosed? 
Individuals who meet any one of the following clinical criteria are defined as having diabetes, according to the American Diabetes Association (ADA):1
Elevated fasting plasma glucose (FPG)
Impaired glucose tolerance (IGT)

2-hour plasma glucose during 75 g oral glucose tolerance test: >200 mg/dL

Elevated glycosylated hemoglobin (A1C)
In addition, individuals who present classic symptoms of hyperglycemia or experience hyperglycemic crisis with random plasma glucose levels >200 mg/dL are also considered to have diabetes. 
How Can Type 2 Diabetes Be Managed?
Lifestyle Changes – It is important for individuals with T2DM to make comprehensive and intensive lifestyle changes that involve physical activity, a healthy diet, and healthy weight loss early on in their disease progression. 
Pharmacotherapy – Diabetes medication alongside significant lifestyle changes may also be recommended early in the diagnosis to control blood glucose levels and reduce the risks of cardiovascular and microvascular complications.8,9 Insulin therapy, however, may not be needed initially or throughout lifetime for individuals with T2DM.1 
References:
1. ElSayed NA, Aleppo G, Aroda VR, et al. 2. Classification and Diagnosis of Diabetes: Standards of Care in Diabetes—2023. Diabetes Care. 2022;46(Supplement_1):S19-S40. doi:10.2337/dc23-S002
2. Galicia-Garcia U, Benito-Vicente A, Jebari S, et al. Pathophysiology of Type 2 Diabetes Mellitus. Int J Mol Sci. 2020;21(17):6275. doi:10.3390/ijms21176275
3. Ke C, Narayan KMV, Chan JCN, Jha P, Shah BR. Pathophysiology, Phenotypes and Management of Type 2 Diabetes Mellitus in Indian and Chinese Populations. Nat Rev Endocrinol. 2022;18(7):413-432. doi:10.1038/s41574-022-00669-4
4. Mouri Mi, Badireddy M. Hyperglycemia. In: StatPearls. StatPearls Publishing; 2022. Accessed July 19, 2022. http://www.ncbi.nlm.nih.gov/books/NBK430900/
5. Davies MJ, D'Alessio DA, Fradkin J, et al. Management of hyperglycemia in type 2 diabetes, 2018. A consensus report by the American Diabetes Association (ADA) and the European Association for the Study of Diabetes (EASD). Diabetes Care. 2018;41(12):2669-2701. doi:10.2337/dci18-0033
6. Goyal R, Jialal I. Diabetes Mellitus Type 2. In: StatPearls. StatPearls Publishing; 2023. Accessed April 14, 2023. http://www.ncbi.nlm.nih.gov/books/NBK513253/
7. Type 2 Diabetes - Symptoms | ADA. Accessed April 14, 2023. https://diabetes.org/diabetes/type-2/symptoms
8. Colagiuri S, Cull CA, Holman RR, For the UKPDS Group. Are Lower Fasting Plasma Glucose Levels at Diagnosis of Type 2 Diabetes Associated With Improved Outcomes?: U.K. Prospective Diabetes Study 61. Diabetes Care. 2002;25(8):1410-1417. doi:10.2337/diacare.25.8.1410
9. Cavaiola TS, Pettus JH. Management Of Type 2 Diabetes: Selecting Amongst Available Pharmacological Agents. In: Feingold KR, Anawalt B, Boyce A, et al., eds. Endotext. MDText.com, Inc.; 2000. Accessed June 30, 2022. http://www.ncbi.nlm.nih.gov/books/NBK425702/

(Disclaimer)
The content of this article is intended to provide a general information and knowledge on the subject matter. The views expressed in newsletters, articles, and blogs in the i-SENS USA website are not necessarily those of i-SENS Incorporated, i-SENS USA Incorporated or our publishers. Medical or nutritional information on i-SENS USA website is not intended to replace professional medical advice – you should always consult a specialist with any questions about your specific circumstances.