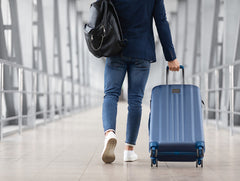 Even though chronic medical conditions such as diabetes can affect one's quality of life and pose challenges to travelling, individuals with diabetes can still participate in activities they enjoy and travel safely with proper management of the illness and safe travel planning.1–3
For those with diabetes who plan on traveling, the Centers for Disease Control and Prevention provides helpful travel-related recommendations.4,5
BEFORE THE TRIP
Schedule a check-up with your doctor 4-6 weeks before the trip and ask:

For a doctor's note explaining your medical condition(s).
For prescriptions for medications.
How to manage your diabetes with the planned activities.
How insulin doses should be adjusted if time zone is changing.

Locate the nearest pharmacies and clinics at your destination.
Get a medical ID bracelet with all the medical conditions you have.
Pack your own meal or order a special meal for your flight.
Buy travel insurance.
What To Pack
Insulin, glucose tablets, and healthy snacks.

Pack them in a carry-on bag so they can be accessed at any time and avoid the extreme temperatures that checked luggage can be exposed to.

Label them all, and pack twice as much as you think may be needed.

Backup insulin pump if you use one.

Consider packing a backup in case yours fails.
Airport Security Tips
Fill out an optional TSA Disability Notification Card for a quicker screening process.
Note that people with diabetes are exempt from the 3.4 oz liquid restriction.

You can carry medications, juice, and cooling packs for insulin.

Ask for a hand inspection of insulin pump or continuous glucose monitor as they can be damaged going through X-ray security.
WHILE TRAVELING
Always carry healthy snacks and water with you.
Do NOT leave the following items under direct sunlight or in a hot car:

Insulin or diabetes medications
Blood glucose monitor
Insulin pump
Other diabetes equipment

Keep your insulin or diabetes medications in a cooler, but NOT directly on ice or a gel pack.
Find healthy food options at restaurants.
Get up and walk around every 1-2 hours, if possible, to prevent blood clots. Stretching or rotating your ankles during a flight can help.
Set an alarm to take medications on time.
DURING THE TRIP
Avoid overeating and order from low-carb menus.
Do NOT go barefoot, even on the beach. Follow good footcare routine.
Check your blood glucose levels more frequently:

Traveling can initially cause your blood glucose levels to be out of target range. Treat high or low blood glucose levels as instructed by your doctor.
High temperature can affect the body's insulin usage. Adjust food and fluid intake and insulin dose as needed.
Check your levels before and after a planned activity. Adjust food, insulin, and activity as needed.