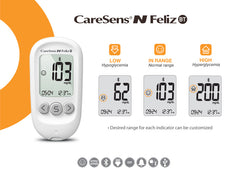 i-SENS USA is delighted to introduce CareSens N Feliz, which has passed the strict and rigorous evaluation and won the FDA approval on Oct 5, 2021.
We are proud to add another FDA approved to our blood glucose meter portfolio even while the competition was especially dense due to covid related delays. CareSens N Feliz meter also complies with the strict accuracy and precision threshold of ISO 15197:2013.
Enhanced Features, Advanced Accuracy
CareSens N Feliz is the meter to further meet needs of the users by offering display features with intuitive symbols to indicate Normal, High (hyperglycemia), or LOW (Hypoglycemia) for each test result. The range can be customized to fit the user's health profile. The meter is compatible with original CareSens N strips.
CareSens N Feliz provides the same advanced technology as our customers' decades long favorite CareSens N meter which provides rapid test results with a small sample volume but with much improvement. With its advanced accuracy, broader hematocrit range, memory capacity of 1000 results, an increased range of the storing temperature and added strip ejection button for enhanced hygiene, CareSens N Feliz will further enhance your diabetes management.
The meter offers the Bluetooth option to accommodate the rising demand in telehealth for both healthcare providers and patients.
Overall, the system has the following features: no coding required; strip ejection button; Pre-set normal range, hypoglycemia, and hypoglycemia indicator; strip expiration date indicator; beep sound on / off function; 4 alarms; and 1, 7, 14, 30, and 90- day test averages; pre-meal, post-meal, fasting, and no-mark flagging; Bluetooth (option); data port.
(Disclaimer)
The content of this article is intended to provide a general information and knowledge on the subject matter. The views expressed in newsletters, articles, and blogs in the i-SENS USA website are not necessarily those of i-SENS Incorporated, i-SENS USA Incorporated or our publishers. Medical or nutritional information on i-SENS USA website is not intended to replace professional medical advice – you should always consult a specialist with any questions about your specific circumstances.