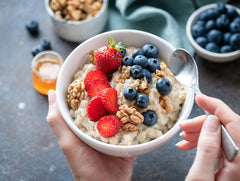 What Is Dietary Fiber?
With the current emphasis on the importance of nutritional therapy and healthy eating in the management of diabetes, the potential health benefits of dietary fiber have gained increasing interest.1 Dietary fiber is defined as complex carbohydrates (in contrast to simple carbohydrates such as simple sugars) that are not digested or absorbed by the human small intestine.1–4 The consumption of dietary fiber has been shown to improve satiety, glucose and insulin responses, and gut hormone and microbiota.1
Examples of Dietary Fiber
Dietary fibers can occur naturally in foods or can be separately added as isolated or synthetic non-digestible carbohydrates.4 Synthetic dietary fibers are required to demonstrate beneficial effects to the human health (eg, improvements in blood glucose, blood pressure, etc.) to be labeled as dietary fiber by the U.S. Food and Drug Administration (FDA).
Natural dietary fibers can be found in the following foods:
Vegetables
Beans, peas, lentils
Whole grains
Fruits
Cereal bran
Flaked cereal
Flours
Isolated or synthetic non-digestible carbohydrates that meet the definition of U.S. FDA dietary fiber include:
Cellulose
Guar gum
Pectin
Locust bean gum
Psyllium husk
Beta-glucan soluble fiber
Hydroxypropylmethylcellulose
Benefits of Dietary Fiber
Numerous studies have demonstrated that adequate consumption of dietary fiber can improve various parameters of type 2 diabetes mellitus (T2DM), including hemoglobin (Hb) A1c, fasting blood glucose, lipid profile, fasting insulin, and may also confer benefits in reducing the risk of developing T2DM.1–3,5–7
For instance, a 2018 umbrella review of 16 meta-analyses assessing the effects of dietary fiber consumption on diabetes concluded that higher dietary fiber intake was associated with a statistically significant reduction in relative risk of developing T2DM.5 The review also found that daily synthetic dietary fiber intake led to improvements in HbA1c and fasting blood glucose levels. Additionally, a recent systematic review and meta-analysis on 22 randomized controlled trials (RCTs) concluded that an average 10 g of dietary fiber consumption per day for a median duration of 8 weeks significantly improved HbA1c, fasting blood glucose, fasting insulin, and insulin resistance in individuals with T2DM.1
What Are the Current Recommendations?
It should be noted that more than 97% of men and 90% of women do not consume the recommended amount of daily dietary fiber.8 The 2019 consensus report on nutrition therapy by the American Diabetes Association (ADA) recommends that individuals at risk for diabetes and with diabetes to consume at least the amount suggested by the Dietary Guidelines for Americans (DGA), which was 14 g of dietary fiber per 1,000 kcal of food per the 2020-2025 DGA.8,9 The ADA recognizes that regular and sufficient intake of dietary fiber can modestly improve HbA1c levels and may be associated with reduced all-cause mortality in diabetic individuals.9 As further shown by recent research, consumption of sufficient and diverse sources of dietary fiber through fruits, vegetables, and whole grains can improve diabetes management.
References:
1. Mao T, Huang F, Zhu X, Wei D, Chen L. Effects of Dietary Fiber on Glycemic Control and Insulin Sensitivity in Patients With Type 2 Diabetes: A Systematic Review and Meta-Analysis. J Funct Foods. 2021;82:104500. doi:10.1016/j.jff.2021.104500
2. Lattimer JM, Haub MD. Effects of Dietary Fiber and Its Components on Metabolic Health. Nutrients. 2010;2(12):1266-1289. doi:10.3390/nu2121266
3. Kimura Y, Yoshida D, Hirakawa Y, et al. Dietary Fiber Intake and Risk of Type 2 Diabetes in a General Japanese Population: The Hisayama Study. J Diabetes Investig. 2021;12(4):527-536. doi:10.1111/jdi.13377
4. Nutrition C for FS and A. Questions and Answers on Dietary Fiber. FDA. Published online December 15, 2021. Accessed March 1, 2023. https://www.fda.gov/food/food-labeling-nutrition/questions-and-answers-dietary-fiber
5. McRae MP. Dietary Fiber Intake and Type 2 Diabetes Mellitus: An Umbrella Review of Meta-analyses. J Chiropr Med. 2018;17(1):44-53. doi:10.1016/j.jcm.2017.11.002
6. Post RE, Mainous AG, King DE, Simpson KN. Dietary Fiber for the Treatment of Type 2 Diabetes Mellitus: A Meta-Analysis. J Am Board Fam Med. 2012;25(1):16-23. doi:10.3122/jabfm.2012.01.110148
7. Chandalia M, Garg A, Lutjohann D, von Bergmann K, Grundy SM, Brinkley LJ. Beneficial Effects of High Dietary Fiber Intake in Patients with Type 2 Diabetes Mellitus. N Engl J Med. 2000;342(19):1392-1398. doi:10.1056/NEJM200005113421903
8. U.S. Department of Agriculture and U.S. Department of Health and Human Services. Dietary Guidelines for Americans, 2020-2025. 9th Edition. December 2020. Available at DietaryGuidelines.gov.
9. Evert AB, Dennison M, Gardner CD, et al. Nutrition Therapy for Adults With Diabetes or Prediabetes: A Consensus Report. Diabetes Care. 2019;42(5):731-754. doi:10.2337/dci19-0014

(Disclaimer)
The content of this article is intended to provide a general information and knowledge on the subject matter. The views expressed in newsletters, articles, and blogs in the i-SENS USA website are not necessarily those of i-SENS Incorporated, i-SENS USA Incorporated or our publishers. Medical or nutritional information on i-SENS USA website is not intended to replace professional medical advice – you should always consult a specialist with any questions about your specific circumstances.